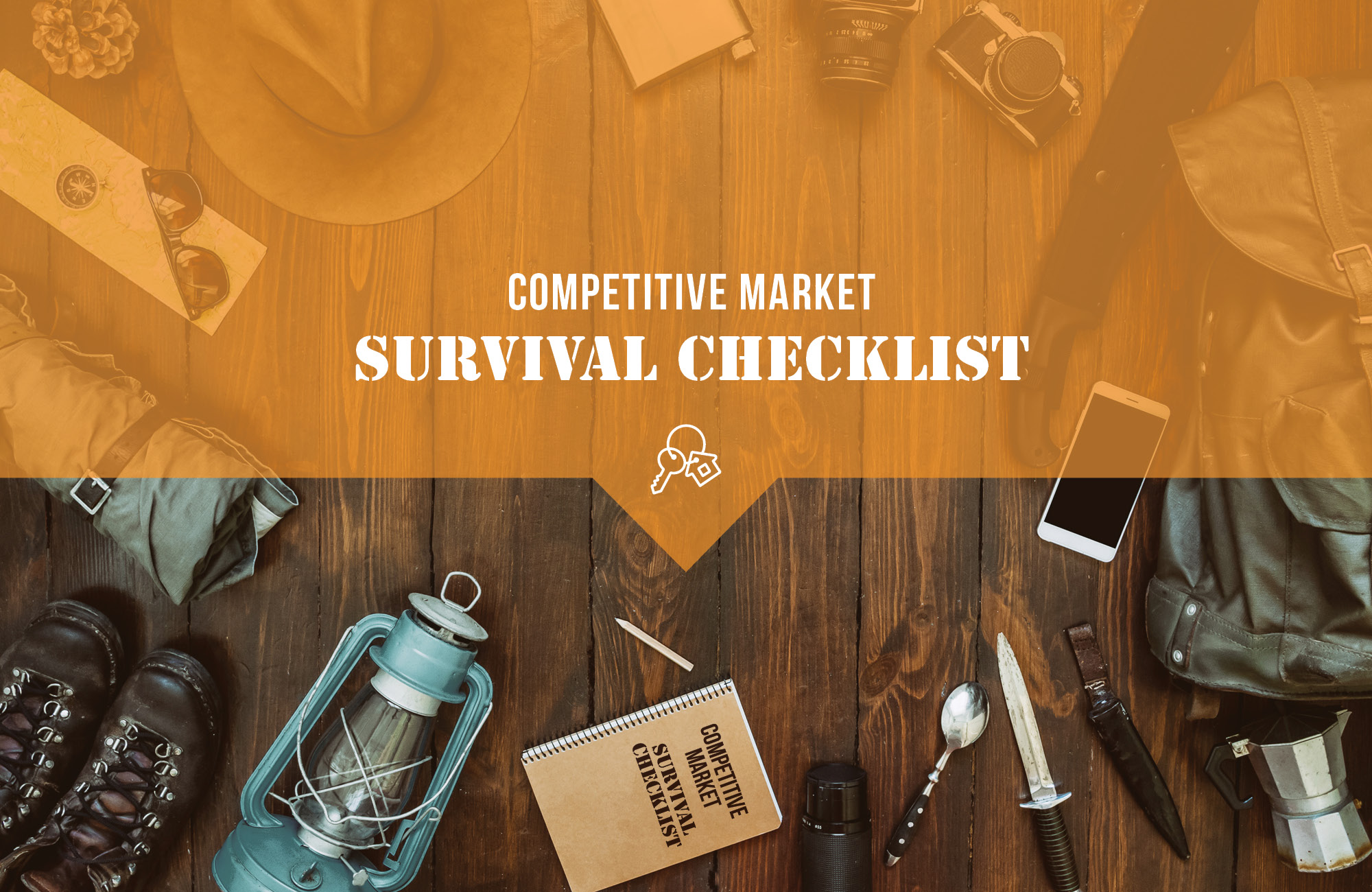 Competitive Market Survival Checklist
While today's market has cooled in the past several months, buyers in today's market are still facing an issue with available inventory. This issue of supply and demand is simple – there are more buyers in the market than there are homes available. With the limited supply available, it is crucial to prepare for all the obstacles you may face.
If you plan to buy a home in today's market, you should consider following our Competitive Market Survival Checklist to simplify your home search.
Start the Process Early
While there are many ways that potential buyers can go about beginning their home purchase process, it is recommended to start early and have enough time to get pre-approved for the mortgage before house hunting. A letter of pre-approval will let you know exactly how much you can afford to borrow so that you can start shopping within your budget and avoid falling in love with a home that you can't afford.
With your timeline in mind, you should also be conscious of any additional big purchases and avoid them if possible. While you may want to begin searching for new furniture, additional purchases may offset an important ratio used during the loan process: The debt-to-income ratio. This is a critical formula that lenders use to determine your ability to make monthly mortgage payments. While we aren't saying that you can't make these purchases before you start the mortgage process, but it is a good thing to consider when you begin this process.
Find an Agent You Can Trust
Finding an excellent real estate agent that you can trust is the secret weapon of today's buyers. The best agents have a solid understanding of the areas that you are interested in and have the connections that will best serve your needs. A good agent will advocate for you, work to move you quickly, and negotiate the asking price to avoid overpaying. Before you settle on an agent, you should consider reading their reviews and hearing recommendations from friends and family, especially if they have made a purchase in this market. Having a trustworthy and reliable agent could make a huge difference in how you purchase your home.
Be Ready to Be Patient
The hot home market means that you may lose a few of your potential dream homes to other buyers. That is a normal part of this process, and it will take a little bit of time for the right home to fall into your lap.
If your first offer isn't accepted, remember to avoid getting discouraged. Take some time to talk with your realtor and lender about things that you can do differently moving forward and other ways to strengthen your offers. The right home for you will come and make the wait worthwhile.
Start with Gratitude
Home buying is a very exciting change. While there is a chance that you may not get the first house you fall in love with, or the process is taking longer than you had hoped, you need to remember that it is all part of your home buying journey. Remembering gratitude and being positive will be beneficial in keeping a level head and appreciating the process even more.
Know Your Budget
Getting pre-approved for a loan before you start your search is the best way to ensure that you will hit fewer bumps in the road to your new home. What is a pre-approval? It's a tentative commitment from a lending institution to lend a fixed amount to the borrower upon underwriting review. It will also help you, the borrower, understand what homes are in your price range. Getting pre-approved gives you more buying power and gives the seller more confidence in your offer. It doesn't guarantee you'll get the property, and you'll still have to go through inspection and the underwriting process, but it is a strong indication that your loan will be approved. It can also make your offer more attractive to the seller.

NOTE: Pre-approval is based on your proof of income, proof of assets, credit reports, and debt. Make sure you have all the materials you need ready to go, so you can be approved more quickly.

List Your Must Haves and Dealbreakers
Your "Must Have" features should be at the top of your list and be the things that you can't live without in your potential new home. Whether it may be having a certain number of bedrooms or a big enough yard for your dog, you need to have a set idea of features you are not willing to compromise on. With that, you may also have some things you may like to have in a home but could live without. You may prefer a two-car garage or hardwood floors, but you are willing to sacrifice not having them.

Your "Dealbreakers" are features that you absolutely do not want in a home. For example, you may not want to be located near any busy roads, so you should flag any homes near busy roads and proceed to look at other potential homes. Identifying these red flags will make it easier to narrow down on your home search and find your dream home. This will prevent you from making major scarifies or feel like you made the wrong choice.

Being able to list your "Must Haves" and "Dealbreakers" will make finding your next home possible.
Categories